Valuable, unique and with soul
The perfect gift for Christmas
Finding the perfect gift is a difficult task. In a world where materialism often takes centre stage, the depth and personal significance of a gift is becoming increasingly important.
Precious gifts that retain their value are an expression of loyalty and appreciation. With a handmade unique piece, you can show someone how unique and valuable they are to you. But you have only found the perfect gift when it touches the recipient's heart. This is where the Borowski glassmakers' special skills come into play. They give each of our objects a soul – endearing traits that make us smile and that we find instantly likeable. Perhaps because we discover a little bit of ourselves or our fellow human beings in them.
Valuable, unique and soulful – with a Borowski object you can create a connection, give the recipient the feeling that they are truly valued and touch their heart. Your gift will become a timeless memory that will last far beyond the moment it is unwrapped.
HOLLY X-MAS
A squirrel spreads positive contemplation
In the winter woods, a lively sprite,
the squirrel dances, what a joyous delight!
Let yourself be delighted by the brave Christmas squirrel, who searches for hidden treasures with nimble determination. May it remind you how important it is to find the magic and joy of the holidays in the little things!
Artistic decoration idea for the feast
In many cultures, elephants represent wisdom, happiness and peace. Or maybe the little elephant helps Santa Claus to hand out the presents in faraway countries. Give the gift of this irresistible glass elephant who will win every heart with his childlike, innocent look. CHRISTMAS JUMBO is 21 cm high and, thanks to an opening in the bottom, can be illuminated with an LED tea light or a chain of lights.
Good mood under the Christmas tree
The good-humoured CHRISTMAS BEAR is a Borowski Christmas special that is strong as a bear against all odds. The cute glass bear also brings back memories of the good old teddy bear, the much-loved cuddly toy friend from childhood. We have illuminated the bear in the photo with a string of lights (not included) through the opening on the underside.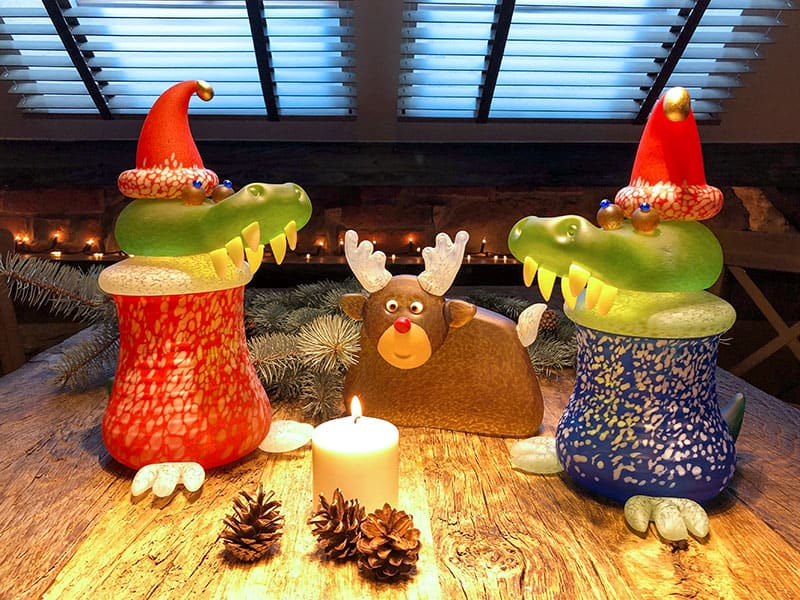 A festive glass jar with a bite or would you prefer the cutest reindeer in the world? As we all know, opposites attract, but CHRIS CROC and RUDOLF are also unique individually.
You can fill the original Christmas crocodile with snacks or a small surprise as you wish. Put an LED light or a string of lights inside and Chris Croc will glow atmospherically.
Glass object Rudolf with the red nose, on the other hand, is a little more traditional and the favorite of all children.
FELIX & FELICITAS GIVE WINGS TO THE FESTIVE SEASON!
Simply let our "Felicitas & Felix" creations bring you happiness and a smile over the festive season. The objects have a height of 22 cm and are versatile as bowls. Equipped with a light chain or candle, the light glitters golden on the transparent, shiny wings. These special little pigs seem to have flown to us from the Magic Kingdom of Oz. Once in your home, they will bring a smile to everyone's face, and not just at Advent.
Fortunately there is Christmas!
Do you wish someone happiness from the bottom of your heart?
Or are you looking for a suitable gift for New Year's Eve?
Then the glass bowl LUCKY PIG may be something for you.
The lucky pig with the green clover in the happily grinning corner of his mouth is almost bursting with optimism.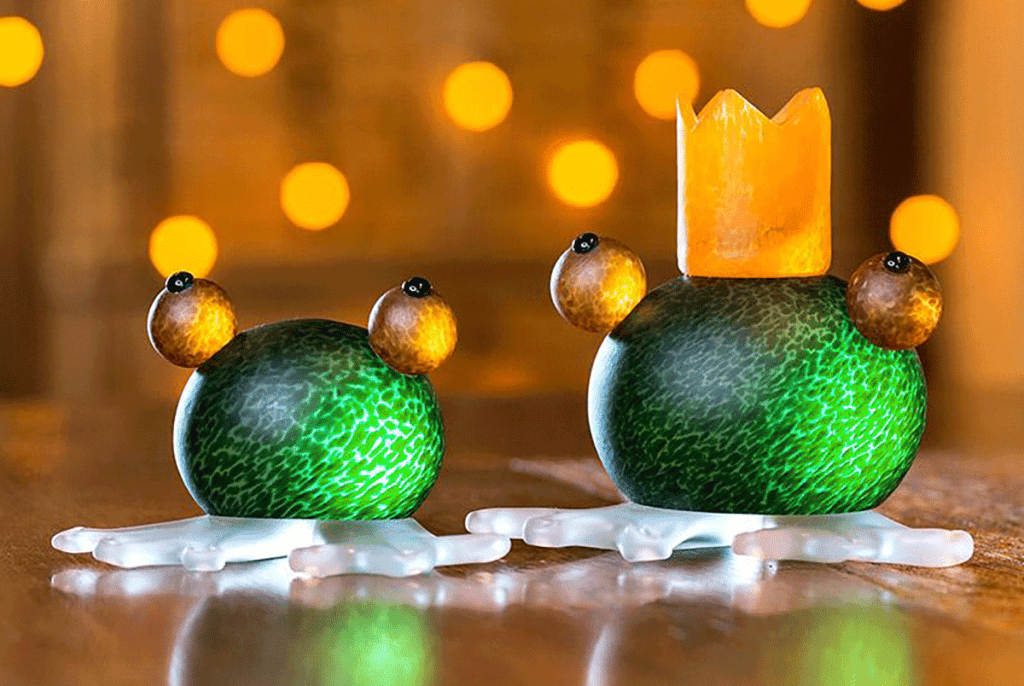 Our FROSCH candle holder was not created by us especially for Christmas, but the cheerful lurch still cuts a particularly fine figure on the festive table. All the better that you don't have to put it away again after the party… the colorful candlesticks are also suitable for Easter!
The crowned candlestick can be decoratively complemented with the FROSCH paperweights, which are available in the colors blue, green, orange and lemon.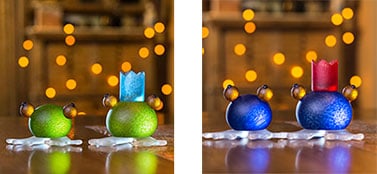 Good humour at the gift table
…is also guaranteed by these frogs, which can be decorated for Christmas in just a few simple steps:
CHRISTMAS DECORATION WITH BOROWSKI OBJECTS
You don't trust the colorful, humorous Borowski objects to make a successful appearance at the holidays? Don't worry, you don't have to put your Borowskis away during Advent! The modern design blends in perfectly with traditional Christmas decorations. With just a few simple steps, some fir greenery, candles, berries or mistletoe, you can create an atmospheric scene. Fairy lights or LED tea lights turn our bowls, vases or tins into festive light objects in no time. Perhaps it is the contrast between the traditional decorative elements and the cheerful, modern design that makes for a Christmas decoration beyond kitsch.