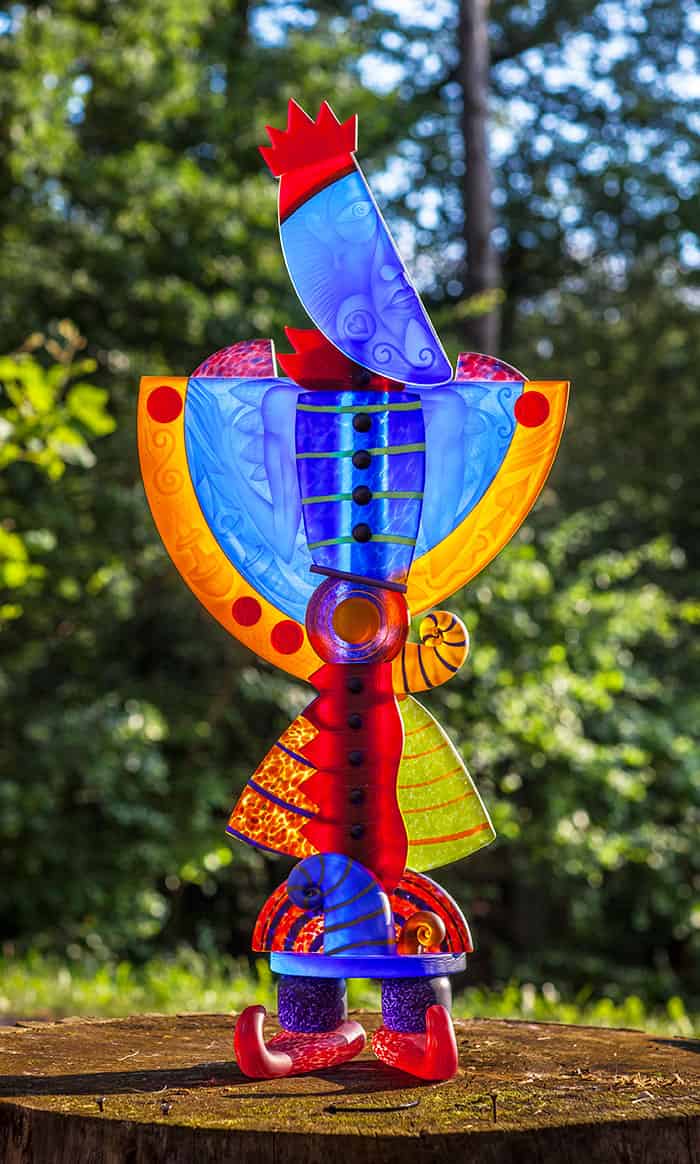 Magnificent Prince
A truly magnificent fellow: elaborately crafted, of brilliant colour and special elegance. Almost everything that glass art has to offer in terms of technology is perfectly shown here in many individual parts.
The various glass elements that make up PRINCE are glued together or fixed in a glowing state. In addition, the face and upper body of the PRINCE are engraved using the technique of overlay engraving.
Your Prince is one of a kind
When ordering a PRINCE, please bear in mind that each PRINCE is an individual, no two look alike. During production, Pawel constantly reinterprets the idea. Thus, on the one hand, the sculpture's appearance has developed over the years, and on the other, its shape and colours change with each individual production process. But don't worry – we'll get in touch and send you photos to make sure you're completely satisfied with your PRINCE. However, the complete design of the object remains in the hands of the artist. Please understand that it is not possible to place an order based solely on the customer's specifications.
Finest Lines and Shades
Overlay engraving is an old, laborious technique of glass finishing that requires a lot of time and the greatest precision. First, a base glass is coated with one or more colored glass layers. Then these layers of paint are removed with an engraving tool or sandblasting device. The depth of the picture is created by the varying thickness of the layer of colored glass that has been left.
THE OBJECT FEATURES AT A GLANCE:
Height: 90 cm
Length: 40 cm
Width: 25 cm
Material: blown glass
Collection: ART OBJECTS
Handcrafted, each glass object is unique