Elaborate Glass Art in High-Quality Production
Numerous details made of glass and metal adorn the solid metal construction and determine the noble expression of this towering sculpture. The MASSAI MAN outdoor sculpture is winterproof and can be left outside all year round.
THE OBJECT FEATURES AT A GLANCE:
Height: 225 cm
Length: 67 cm
Width: 50 cm
Material: blown glass
Collection: OUTDOOR OBJECTS
Handcrafted, each glass object is unique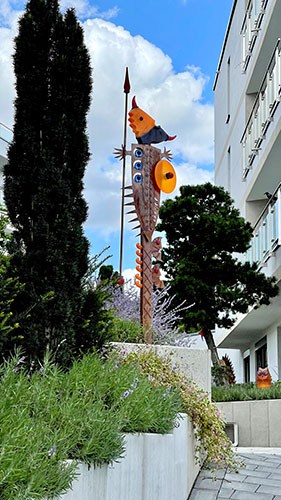 MASSAI MAN in the sculpture park in Andernach
The outdoor facilities of the Hotel Einstein at the Römerpark in Andernach are designed as a landscape and sculpture park and invite you to stroll and marvel.
A permanent exhibition of Borowski OUTDOOR OBJECTS has been created around the hotel. The numerous sculptures and light objects provide artistic enjoyment and fit perfectly into the overall picture of the complex.