Eye catcher crocodile
Add a touch of the jungle to your outdoor area! Whether on your lawn, between flowers or on the bank of your pond, the green crocodile with brown scale armor is a real eye-catcher in your garden and is guaranteed to be astonishing at the next summer party. Especially when the light is switched on: the head and tail made of green glass as well as the "scales" of the steel body emit light and ensure that the crocodile can also be admired in the dark. You will receive a special glass trophy here, which impresses with its extraordinary design. Nobody will simply pass by the harmless charm of this crocodile without being infected by its cheerful charisma. The CROCO Outdoor Objects measures around 160 cm in length and is made of handcrafted glass and steel. Benefit from the skilful design and the absolute quality of the light object, which surprises with imaginative details.
THE OBJECT FEATURES AT A GLANCE:
Length: 160 cm
Height: 50 cm
Width: 37 cm
Color: green
Materials: blown glass, steel
Collection: OUTDOOR OBJECTS
The production is done by hand, each glass object is unique. Slight deviations in color, shape and dimensions are therefore possible.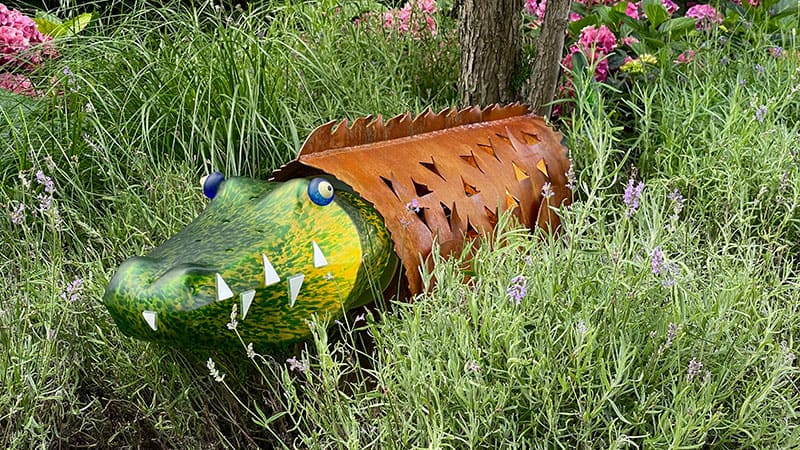 CROCO in the sculpture park Andernach
The outdoor facilities of the Hotel Einstein at the Römerpark in Andernach are designed as a landscape and sculpture park and invite you to stroll and marvel.
A permanent exhibition of Borowski OUTDOOR OBJECTS has been created around the hotel. The numerous sculptures and light objects provide artistic enjoyment and fit perfectly into the overall picture of the complex.