A Proud Hunter and Warrior
The stately MASSAI sculpture, approx. 75 centimeters high, is colorful and elegant. Spear, shield and feet are made of copper-plated steel and decorated with fine ornaments.
The various glass elements that make up MASSAI are glued together or applied while they are still glowing.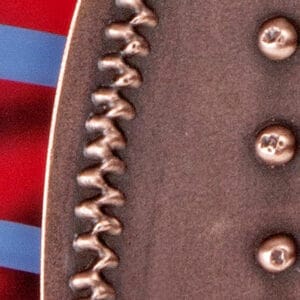 THE OBJECT FEATURES AT A GLANCE:
Height: 75 cm
Length: 25 cm
Width: 14 cm
Materials: mouth-blown glass, copper-plated steel
Collection: ART OBJECTS
Handcrafted, each glass object is unique
Your sculpture is a unique piece
When ordering this sculpture, please bear in mind that each piece is individual, no two look the same. When making a MASSAI sculpture, Pawel always reinterprets the idea. So it changes shape and colours with every single manufacturing process. But don't worry – we will contact you and send you photos to make sure you are completely satisfied with your sculpture. However, the complete design of the object remains in the hands of the artist. Please understand that it is not possible to place an order based solely on the customer's specifications.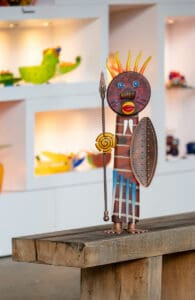 A MASSAI sculpture at the Borowski summer event.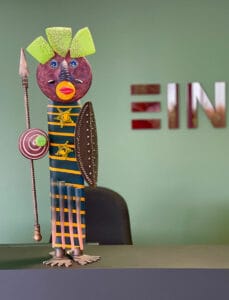 The MASSAI sculpture on the reception of the Event Hotel Einstein in Andernach.