Charismatic exterior sculpture with a fresh look
Autumn has inspired Stani Jan Borowski to give the last two examples of the charismatic outdoor sculpture two new outfits. The resulting ARLECCHINO now has a freshly coloured plumage that gives autumn a little pep, with a striped beak and eyes.
These magnificent sculptures are 134 cm high, 30 cm wide and 50 cm long.
The coloured feathers, made of handcrafted glass, catch the light and conjure up a fascinating play of light.
The use of high-quality materials ensures that ARLECCHINO can withstand the elements and can be placed outdoors all year round. Whether it's bright sunshine, rainy days or snow-covered landscapes – this impressive bird defies the adversities of nature and unfolds its beauty in any weather.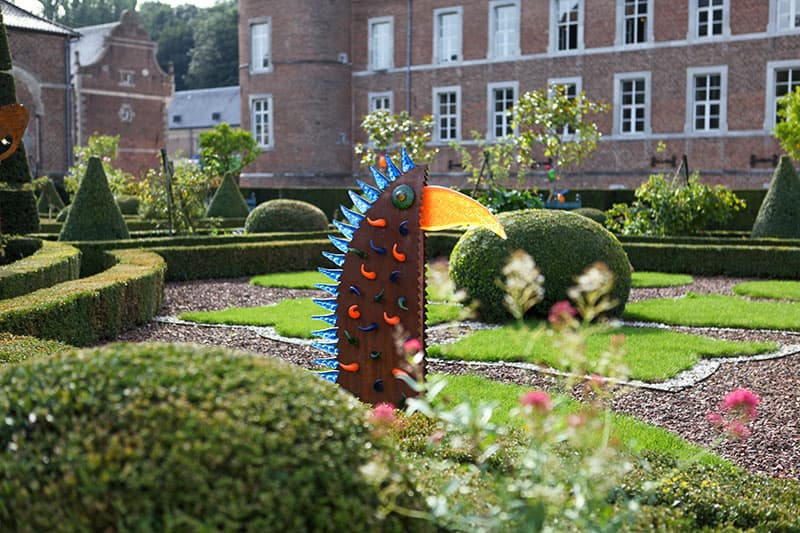 Now a rarity: the earlier version of the BIRD in the garden of Alden Biesen Castle.
THESE BIRDS ARE ABSOLUTELY ONE-OF-A-KIND!
The outdoor sculpture BIRD will no longer be produced. These two ARLECCHINOS are literally unique, because there will only be these two examples.
The ARLECCHINOS are unique pieces. Stani Jan Borowski personally crafted the glasswork with the utmost precision. The limited edition of only two copies gives this work of art an exclusive character and makes it a unique asset for collectors and art lovers.
Get one of the two pieces and bring a timelessly beautiful work of art into your home.
A sculpture to enchant your garden
These wonderful birds have a special potential to connect with their surroundings and give them a charm all of their own. Experience ARLECCHINO in your garden, courtyard or outdoor area and be enchanted by the harmonious combination of art and nature.
THE OBJECT FEATURES AT A GLANCE:
Height: 134 cm
Length: 50 cm
Width: 30 cm
Materials: blown glass, steel
Collection: OUTDOOR OBJECTS
Handmade unique piece