Noble gifts for Christmas
Timeless gifts that retain their value are an expression of attachment and appreciation. With a handmade piece you show a person how unique he is. But you haven't found the perfect gift until it has a soul! The glassmakers at Borowski have the special gift of giving each individual piece a soul that will make the recipient smile and maybe fall in love a little.
Artistic decoration idea for the feast
In many cultures, elephants represent wisdom, happiness and peace. Or maybe the little elephant helps Santa Claus to hand out the presents in faraway countries. Give this irresistible glass elephant as a gift, which will win every heart with its innocent look. CHRISTMAS JUMBO is 21 cm high and, thanks to an opening in the bottom, can be illuminated with an LED tea light or a chain of lights.
Good mood under the Christmas tree
The good-humoured CHRISTMAS BEAR is a Borowski Christmas special that is strong as a bear against all odds. The bear has an opening at the bottom, we made the glass glow with a light string.
FELIX & FELICITAS GIVE WINGS TO THE FESTIVE SEASON!
Just let our new creations "Felicitas& Felix" bring you happiness and spend the festive season with a smile. The objects have a height of 22 cm and are versatile as bowls. Equipped with a light chain or candle, the light glitters golden on the transparent, shiny wings. These special little pigs seem to have flown to us from the Magic Kingdom of Oz. Once in your home, they will bring a smile to everyone's face, and not just at Advent.
Fortunately there is Christmas!
Do you wish someone happiness from the bottom of your heart?
Or are you looking for a suitable gift for New Year's Eve?
Then the glass bowl LUCKY PIG may be something for you.
The lucky pig with the green clover in the happily grinning corner of his mouth is almost bursting with optimism.
A candle holder that shines not only at Christmas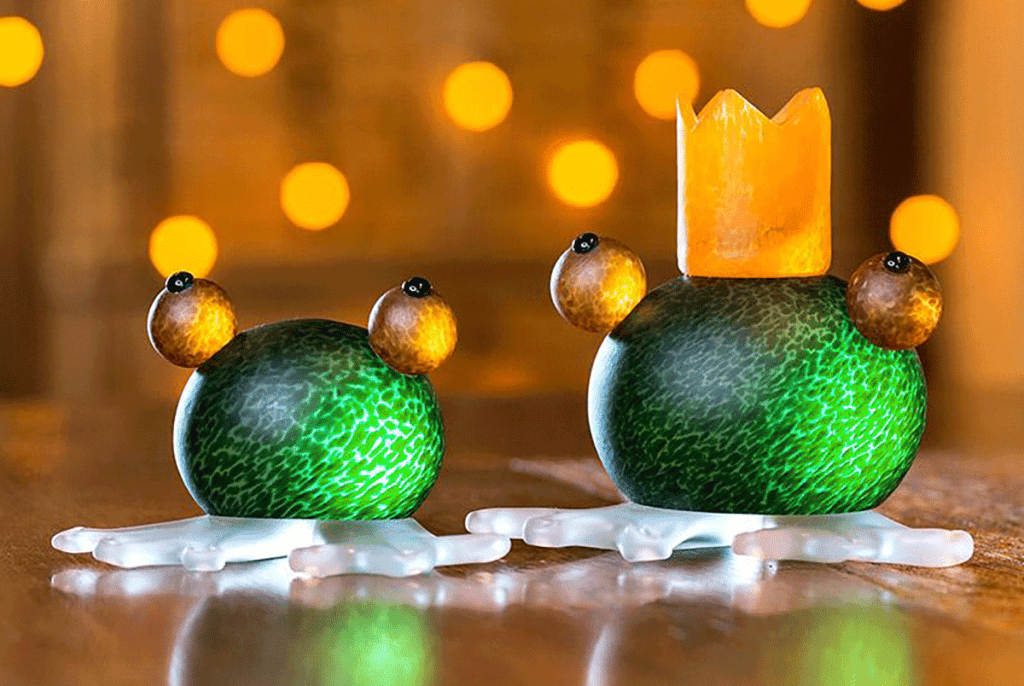 Our FROSCH candle holder was not created by us especially for Christmas, but the cheerful lurch still cuts a particularly fine figure on the festive table. All the better that you don't have to put it away again after the party… the colorful candlesticks are also suitable for Easter!
The crowned candlestick can be decoratively complemented with the FROSCH paperweights, which are available in the colors blue, green, orange and lemon.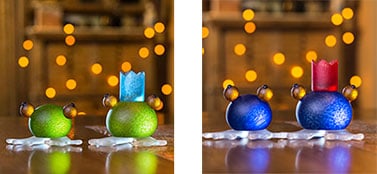 Good mood at the gift table …
…guaranteed by these frogs, which can of course be decorated for Christmas in just a few simple steps:
The perfect gift is also characterized by a practical benefit. Many Borowski objects not only have a high aesthetic appeal, but are also versatile. Whether as a serving bowl, storage space for keys or knickknacks, paperweight, table lamp or flower vase, a Borowski object becomes a charming everyday companion that you no longer want to miss.
Christmas decoration with Borowski objects
You don't trust the colorful, humorous Borowski objects to make a successful appearance at the holidays? Don't worry, you don't have to put your Borowskis away during Advent! With a few simple steps, some fir greenery, candles, berry or mistletoe branches, you can transform our glass objects into an atmospheric decoration. Fairy lights or LED tea lights turn our bowls, vases or tins into festive light objects in no time. Perhaps it is the contrast between the traditional decorative elements and the cheerful, modern design that makes for a Christmas decoration beyond kitsch.